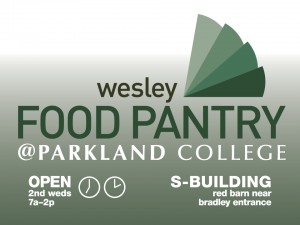 Open the 2nd Wednesday 7a-2p beginning December 11, 2013 in the S Building at Parkland College. (Click here for a visual guide to finding the S Building.)
If you are a Parkland student and need food, come to the S Building on the 2nd Wednesday any time between 7a and 2p to "shop" for groceries.  Parking is available across the street in parking lot B-5.  Come in the first S Building door and find us at the end of the hall.
If you want to help buy groceries from the Eastern Illinois Foodbank, donate here to the Wesley Pantry at Parkland via PayPal.
(To designate your donation specifically to the new Wesley Pantry at Parkland, Enter "Parkland" in the Note to Seller field once you sign in to PayPal.)
To volunteer, go to the Volunteering page at right (www.wesleypantry.org/volunteering)  and sign up using the links at the bottom of the page.  Contact volunteer@wesleypantry.org if you need assistance.